The Long Rake Spar group has a wide range of processing and packing equipment installed at our plants strategically located throughout the UK. This equipment enables the company to process and supply packed and loose products to multiple sectors.
The processing facilities available include:
Washing and Screening
Drying
Milling/crushing
Rumbling
Storage silos
The packed products available include:
Bulk bags: Ranging from 400 – 1,500kgs for aggregates and 1.25m3 for light-weight products.
Pre-packs: Are available in pack sizes ranging from 5-25kgs for aggregates and 20 litre bags for other light-weight products. These can also be packed in either Long Rake Spar or customer branded bags.
Wire cages: Containing rockery stone and large boulders for landscaping.
The bagging equipment utilised at our sites include:
Three semi -automated robotic packing lines with a capacity to produce over 500 tonnes (20,000 bags) per day.
One fully automated robotic packing line, which is capable of bagging water proof bags for dry products.
Seven manual bagging lines which can be utilised for the packing of specialist products including cobbles, sand or powders direct from storage silos.
Five bulk bagging plants for packing IBC's.
---

Washing
High performance washing facilities ensure Long Rake Spar products are provided to the maximum degree of cleanliness. These facilities are also available for contract processing of customer-supplied materials.

Blending
Accurate blending by either weight or density can be undertaken to meet exacting in-house or customer defined specifications.

Drying & Screening
Moisture content is reduced to a minimum by processing aggregates and minerals through two high capacity rotary driers. Dry materials are then screened through a sealed system, triple decked locker screens with integral hammer-mill enabling granules to be produced at 0.5mm size intervals up to 12.0mm.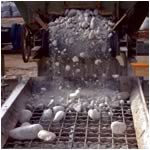 Wet Screening
Screening of wet products is undertaken through either a washing trommel at 90, 40 & 20mm intervals or over a triple deck screening plant at multiple size separations between 3 & 50mm

Tumbler
Tumbling of materials is undertaken in a 20 tonne capacity drum to produce rounded cobbles and paddlestones.